TTYJA900 finished 1st span erection of Yanziyan Super Major Bridge
2017-06-05
On 2nd of June, the TTYJA900 Special Launching Carrier manufactured by Tolian sucessfully finished the first span erection of Yanziyan Super Major Bridge after coming out of Zhugaoling Tunnel.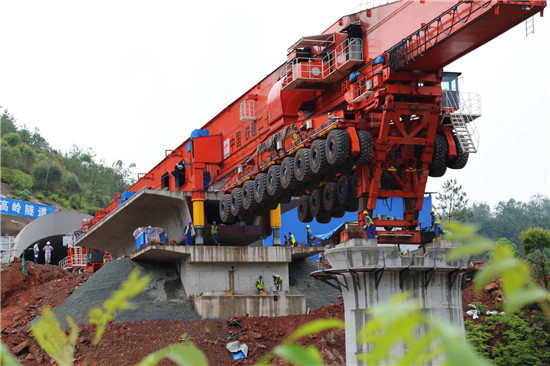 The total length of Zhugaoling Tunnel is 453.67m, and the tunnel is located in the mountain of Zhugaoling , Ganxian District of Jiangxi of China.Zhugaoling Tunnel is a typical broken rock tunnel and in the whole tunnel, there are completely IV/V soft rocks. To excavate the tunnel is just like to make a hole in the sand.
Yanziyan Super Major Bridge has a total length of 544.88m and has 173 piles foundation. The span varies from 24m to 32m and there are 18 abutments. From the exit of Zhugaoling Tunnel to the No. Zero abutment of Yanziyan Bridge, there is a roadbed of 45m.

The dead weight of special launching carrier is 672 tons. As the advanced special heavy lifting equipment, it can combine the functions of box girder lifting, box girder transportation and box girder erection. Fast working and flexible working are the advantages of the equipment. Besides, the special launching carrier can also erect box girder with a distance of Zero to the exit of tunnels.